Aerial mapping firm announces expansion and rebranding
When you remake yourself by doubling your staff of topnotch professionals, purchasing state of the art equipment including a new fixed-wing aircraft, and distinguishing yourself as a client-driven firm, the timing is perfect to roll out a new brand identity. 95West Aerial Mapping, LLC, formerly KBM GeoSpatial, LLC, has rebranded to reflect and showcase the firm's expanded capabilities. 95West provides aerial acquisition and geospatial services throughout the United States and Canada.
KBM GeoSpatial became a subsidiary of Widseth when it acquired KBM Inc. in 2016. The aerial mapping team continued to expand its client reach and added key professionals in leadership, technical, and client service roles. Effective September 30, 2021, KBM GeoSpatial has rebranded as 95West Aerial Mapping, highlighting the firm's expanded capabilities, including:
Our newest fixed-wing aircraft: Cessna 208B Grand Caravan
New large format camera: Vexcel UltraCam Eagle M3
New Lidar scanner: RIEGL VQ-1560 II-S
Simultaneous capture solutions for projects of all sizes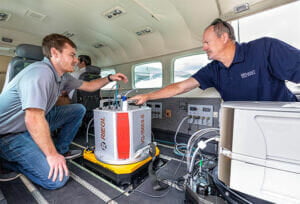 The new RIEGL VQ-1560II-S is built to better service mountainous terrain, mining applications, and other demanding topography. 95West now has the capacity to service larger projects of greater coverage areas with improved levels of detail and accuracy for federal, state, and local governments, utilities, and private entities.