When taking aerial images for a mining project, combining high density Lidar makes a huge difference in mapping accuracy and material calculations. What is in the shadows along ridges or piles of materials in your aerial photos? It is almost impossible to see all the details in the images alone, but when merged with Lidar data, the topography can be more accurately mapped. The 95West team has the highest combined resolution images and scans in the United States, and the team to calibrate, process and verify to get you the most accurate mapping solutions.
Efficient and accurate mapping starts with good planning. Using TopoFlight both camera and scanner are operated together to efficiently collect data along the flight path as an integrated system.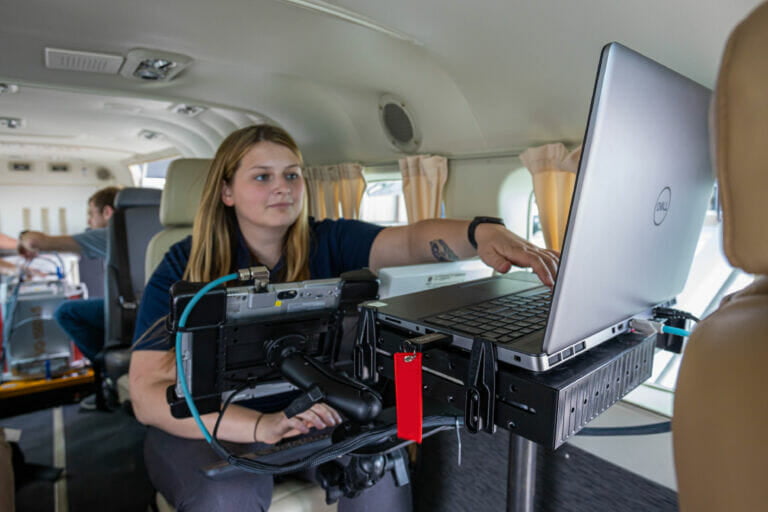 95West Aerial Mapping's new aircraft, equipped with a 450 Megapixel camera and dual channel Lidar scanner, collects large-format imagery and high-density Lidar simultaneously to capture everything in one flight. That gives you better accuracy collecting everything at the same time and saves you both mobilization and acquisition costs.
Next, 95West Aerial Mapping staff utilize both the imagery and the Lidar data to create orthophotos, terrain models, and other combined aerial data products. All deliverables are verified by our technicians and checked against each other to help our clients see wider areas with greater accuracy and detail than ever before. This results in more accurate quantity reporting and more detailed site maps.
Mining example:
While processing images, even the latest terrain auto-correlation advancements with high resolution images can miss details in topography. In images taken by 95West, shadows from the ridges and trees make it difficult to map the topography of this mine site using images alone.
When paired with high density Lidar, the details emerge from the shadows and are accurately mapped. A ridge appears in the middle of the image that shows how the combined image and data can see more together to get you better results.
Want to learn more about how combining aerial images and high density can be used on your mining project? If you are attending the SME Minnesota Section Conference in Virginia, MN, look for Miles Strain, the leader of the 95West Aerial Mapping team. If you would like to connect with Miles in advance to arrange a conversation at the conference, drop him a line at Miles.Strain@95Westaerial.com. You may also contact 95West Aerial mapping through our website contact page